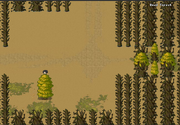 Dead Forest is a location in Crystal Story II. It is connected to Bog to the north and Swamp to the west.
Treasure Chests
Edit
(See also: Locked Chest)
This area is a decent source of amethysts, emeralds, roots and slugs (via stealing). Plus there are multiple werewolves which can be farmed (stealing) for gold (selling the Last SPD and Last DEF items for 5000G each).
Cut-scenes
Edit
Ad blocker interference detected!
Wikia is a free-to-use site that makes money from advertising. We have a modified experience for viewers using ad blockers

Wikia is not accessible if you've made further modifications. Remove the custom ad blocker rule(s) and the page will load as expected.