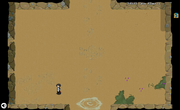 Evil Cave is a location in Crystal Story II. It is connected to Zombie Defense to the north, Small River to the south, and Smalltown to the east. It was the main dungeon in the original Crystal Story. It is also the first place where the Hackpick 2000 is used to open a Locked Chest.
Treasure Chests
Edit
Earth Charm
Heal Potion I
Revive
[Locked] Heatblade I + ATK Flask  (Floor 2)
(See also: Locked Chest)
Cut-scenes
Edit
Ad blocker interference detected!
Wikia is a free-to-use site that makes money from advertising. We have a modified experience for viewers using ad blockers

Wikia is not accessible if you've made further modifications. Remove the custom ad blocker rule(s) and the page will load as expected.