Ad blocker interference detected!
Wikia is a free-to-use site that makes money from advertising. We have a modified experience for viewers using ad blockers

Wikia is not accessible if you've made further modifications. Remove the custom ad blocker rule(s) and the page will load as expected.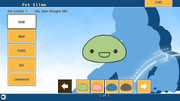 Pet is a feature of Crystal Story II. It allows the player to have a pet slime which they can customize and call to help in battle. It is unlocked after finishing the Double Crosser quest in Smalltown.
Pet Level
Edit
As more different pet parts are obtained, the pet slime levels up and deals more damage when summoned in battle.
| Pet Level | # of Parts | Base Damage |
| --- | --- | --- |
| 1 | 1-10 | 50 |
| 2 | 11-15 | 100 |
| 3 | 16-20 | 150 |
| 4 | 21-25 | 200 |
| 5 | 26-30 | 260 |
| 6 | 31-35 | 280 |
| 7 | 36-40 | 400 |
| 8 | 41-45 | 460 |
| 9 | 46-50 | 600 |
| 10 | 51+ | 600 |
Parts List
Edit
Accessory
Edit