Ad blocker interference detected!
Wikia is a free-to-use site that makes money from advertising. We have a modified experience for viewers using ad blockers

Wikia is not accessible if you've made further modifications. Remove the custom ad blocker rule(s) and the page will load as expected.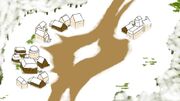 Warm Yeti is a location in Crystal Story II. It is connected to Snowboard to the North, Icy Forest to the East, and Snow to the West. As the heroes arrive, they are informed that there's some punch-up in Frost  Fort to the East, and that someone needs rescue...
| | |
| --- | --- |
| | |
Heal Potion I - 50 G
Heal Potion II - 200 G
Heal Potion III - 500 G
Cure Potion - 100 G
Revive - 500 G
Heatblade I - 2000 G
Runeblade I - 2000 G
Frostblade I - 2000 G
Laststand I - 2000 G
Kris I - 2000 G
Dirk I - 2000 G
Kalis I - 2000 G
Bisu I - 2000 G
Balisong I - 2000 G
Repair Pistol I - 2000 G
Giant Cannon I - 2000 G
Wind Pistol I - 2000 G
Twin Trigger I - 2000 G
Hyper Blaster I - 2000 G
Demoncutter I - 2000 G
Doomslayer I - 2000 G
Imphowl I - 2000 G
Plate I - 1000 G
Gauntlets I - 1000 G
Amulet I - 1000 G
Boots I - 1000 G
Shield I - 1000 G
Helm I - 1000 G
Merc Pick - 7000 G
Merc Axe - 5000 G
Merc Wand - 4000 G
Merc Sweater - 5000 G
Merc Shield - 6000 G
Merc Meds - 5000 G
Merc Rod - 7000 G
Cut-scenes
Edit